Own VS Rent – What is right for you?
Please join us for our monthly home buyer education classes here in Tempe. Along with our friends at Summit Funding, we want to help you become familiar with all aspects of home ownership.
Own vs Rent – What Is Best For You?
MANY financing options are available in the current marketplace, and many misconceptions can hinder you if you aren't familiar with what it takes to buy a home. For some, the home buying decision is the right choice. For others, it might not be the right time. We are happy to help explain each and every detail so that you feel better about your decision to buy a home or to remain renting.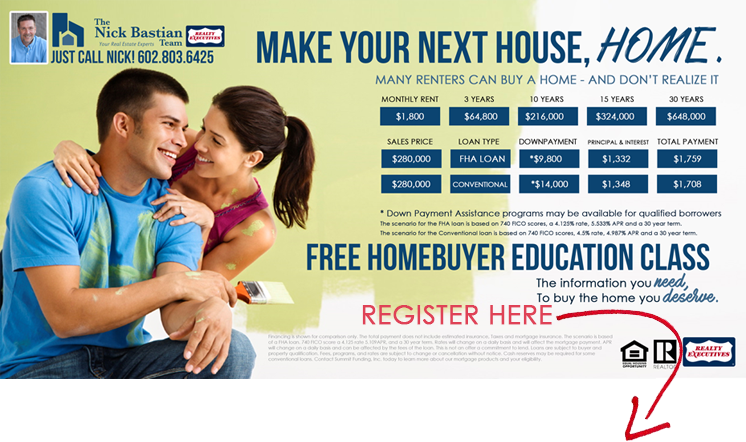 Topics covered at the Own vs Rent class:
*How to be a Smart Renter
*How to Start the Loan Process
*What to Look for in a REALTOR
*Detailed Explanation of the Loan Process
*Documentation and Why it is Necessary
*Credit Guidance
*Down Payment Assistance
*Q&A at the End
No pressure, just friendly advice. None of us are going to expect anything from you. Of course, if / when it is right for you to purchase your first home or your next home, we would love to help you. The decision of own vs rent is always going to be yours and yours alone.
Please join us for our Homebuyer Education Class. Click below to register.
The search below is a SAMPLE of what is currently for sale in the 85284 and 85226 zip codes (close to where you live). We pulled single family homes priced up to $280,000. The reason for this search is because it reflects what can be purchased using current interest rates with conventional financing and a 5% down payment. Yes, rates go up and rates go down. If you ever decide to purchase a home, you'll want to get pre-qualified for a mortgage first to see what price range we should be looking in. Please note: We can help you purchase a home in ANY area. This is simply a sample of what is currently available in the south Tempe and north Chandler area.
What Can You Buy?
MLS IDX Listing Disclosure © 2017
Copyright Arizona Regional Multiple Listing Service, Inc. All rights reserved. Information Not Guaranteed and Must Be Confirmed by End User. Site contains live data.