Homes near ASU are a popular choice for parents and students alike.
Arizona State University does offer students (and their parents) assistance in looking for off campus housing but much of that is geared towards students leasing a home. In our opinion, it is often a good idea for these same parents and students to look at ALL of their options to see which one makes the best financial and personal sense for their situation.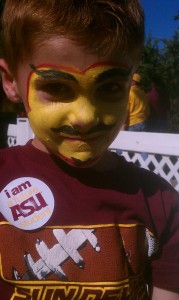 While homes near ASU can be looked at as a good financial move, there is also the fun aspect of living in the exciting and dynamic 85281 zip code. People love the easy access to restaurants, sporting events, arts communities and job centers. It can be a great benefit to ASU students or to anyone looking for a convenient lifestyle. BUT, be aware that buying a home in this area gets VERY competitive from March – July when parents are looking for student housing!
Not Just Students!
With the explosive growth and the convenient location near the downtown Tempe and Phoenix campuses of ASU, we see a lot of different types of people wanting to live in the area. Professionals, families, single people, people from many walks of life are interested in these growing and dynamic parts of town.
Thousands of jobs have been created near our downtown in recent years, and those jobs are helping to keep upward pressure on the very limited supply of housing near Arizona State University, especially in the single family home market.
Major Developments Near ASU:
Some of the projects bringing jobs to the area are:
The Novus Innovation Corridor: This is a mind-boggling development that kind of flies under the radar. It's a massive 355-acre development at Arizona State University. The urban, mixed-use development will host a large stretch of office, retail, residential, and entertainment projects.
South Pier at Tempe Town Lake:  "South Pier at Tempe Town Lake will be a mixed-use entertainment destination that will include apartments, condos, retail, a hotel, offices and central green and plaza areas."
250 Rio Office and Retail: 250 Rio is proposed to be "a 216,000-square-foot Class AA office building and accompanying parking structure between the historic Ash Avenue alignment and the current Rio Salado Parkway, adjacent to Tempe Beach Park."
Here to Help Parents and Students:
Every year, we see many students ( and their parents ) looking to purchase homes close to campus, usually within the 85281 zip code, as it is the closest zip code to the main Tempe campus. However, other Tempe zip codes of 85282, 85283 and further south to 85284 are popular options, as well.
We have helped many people choose the right option for their family. Did you know that "special" financing options are available for parents or friends / relatives wanting to help a student buy a home? Ask us about parent / student home loans! This can be a great way for a student to become a homeowner.
If you are interested in homes near ASU, contact Nick Bastian at Realty Executives. Nick has been a REALTOR in Tempe for the past 29 years. His knowledge of the area will be a huge benefit to you when looking to buy or sell a home near campus. Nick can be reached at 602-803-6425.
You can start your search for homes here:
Some of the Tempe neighborhoods we like close to the campus at Arizona State University are:
Single Family Homes Near ASU
Lofts / Condos Near ASU
Hayden Ferry and Tempe Town Lake
Remember, if you are buying OR selling a home near Arizona State University, call Tempe real estate expert Nick Bastian at 602-803-6425.
Here's a sample of some of the homes currently for sale near ASU. We are happy to send you an accurate and customised list of homes that fit your specific needs!
Homes Near ASU
MLS IDX Listing Disclosure © 2023
Copyright 2023 Arizona Regional Multiple Listing Service, Inc. All rights reserved. Information Not Guaranteed and Must Be Confirmed by End User. Site contains live data.