Optimist Park is located in South Tempe and is surrounded by neighborhoods that are known as the Optimist Park Neighborhood.
The rough boundaries of the Optimist Park neighborhood would be from Baseline Road on the North side to Guadalupe Road to the South and from McClintock Drive on the West to Price Road to the East.
The homes for sale in the area come in many shapes and sizes. Many of these homes are of block construction and of relatively average size for the general Tempe area. At any given time, there will be several homes to choose from and a list of available homes is found below.
As always, should you want to see any of these homes, please call Nick Bastian at Realty Executives. Nick lives, works and plays in the area and can be reached at 602-803-6425.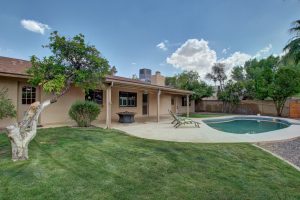 If you are not yet familiar with Tempe neighborhoods, the maps below will give you a better idea of the location and of some of the community restaurants, shops, etc. Of course, the Optimist Park Neighborhood is located just North of another area we like a lot which is the popular Camelot Corner area of Tempe.
Great South Tempe Location!
Speaking of location, Optimist Park has it. The proximity to two major freeways, some great local businesses and many nearby conveniences help make this relatively affordable Tempe location a great value for it's residents. Within the neighborhood, the park itself, along with schools, places of worship, walking / biking trails, and a mix of residential homes help bring a good sense of community to the area.
Next to the park is well respected Fuller Elementary School which is part of the Tempe Elementary School District boundary. The middle school boundary for neighborhod residents is Fees Middle School and the High School listed for the neighborhood is Marcos De Niza which is an open enrollment school.
View Optimist Park Neighborhood Tempe AZ in a larger map
We love the location and the lifestyle of the area. Ther's so much to do and the freeway access is awesome. Take a look around!
Optimist Park Homes For Sale
MLS IDX Listing Disclosure © 2022
Copyright 2021 Arizona Regional Multiple Listing Service, Inc. All rights reserved. Information Not Guaranteed and Must Be Confirmed by End User. Site contains live data.