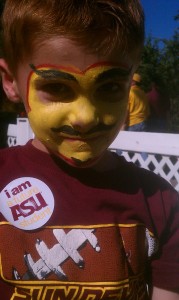 What are Parent Student Home Loans?
A Parent Student Home Loans is also commonly known as a "Kiddie Condo Loan." This is an FHA OR a Conventional loan product that allows parents ( or relatives ) to help purchase a home by being a non-occupant co- signer. While these two names might imply that the borrower has to be a student or the  property has to be a condo, that is not the case. Single family homes qualify as well, and  they tend to be the more popular choice as many of the condos near ASU do not qualify for FHA financing.
* Update: More good news for FHA financing. HUD has reduced their annual insurance premiums, making the loans more affordable than in the recent past.
*Update #2 – Conventional loan products are also now available. This gives people even more options!
 Here are 5 things to know about Parent Student Home Loans:
1. Not just for kids or students: A kiddie condo loan or a parent student home loan  isn't limited to parents or grandparents helping children. Co-signing borrowers can include  siblings, stepchildren, nieces, nephews and unrelated people who can document a longstanding family-type relationship with the co-borrower of the home.
2. Co-borrower can not have poor credit: They don't need to have a lot of income or a lot of credit, they just can't have poor credit. Many factors go into qualifying, credit is certainly one of them.
3. 3.5% down payment: While FHA loans are available for "as little as" 3.5% down payment, parents or the co-borrower can choose to put more money down if their goal is to lower their monthly payment.
4. Can charge rent for rooms: While FHA loans are strictly for owner occupant purchases, it is possible for the occupant / co-borrower to rent out a portion of the home to help make the mortgage payment. This is popular with students that may have a friend or two attending school with them. (Always talk to your CPA to check on how this could affect your situation)
5. Maximum Price set by HUD: While you can buy a condo or a single family home and that property can be anything from a studio to a 4-5 bedroom ( or more ) home, you are limited by a maximum FHA loan amount of $279,450.  This means a maximum purchase price of a home or condo is just over $289,500.00. For Conventional financing, the loan amounts will be higher.
Around here, the parent student home loan is a popular choice for financing homes because of our very high student population and our proximity to Arizona State University.
Parent Student Home Loans Not for Everyone:
Like most things, obtaining a Kiddie Condo / Parent Student Home Loan is not for everyone. For some, this is a great way to teach financial responsibility. These loans can also keep housing costs down if one or more of the rooms are rented out. Of course, there can be risks associated with parent student home loans. The borrower is responsible to make sure all payments are made, taxes paid, property maintained, etc. Home ownership can be more than what some young students are ready for, so be sure to weigh the good with the ( potentially ) bad.
Two current examples of homes that a parent could help their student purchase in Tempe:
Here's a 3 bedroom home near McClintock and Southern priced at $270,000.
Here's a nice 2 bedroom unit at Villagio in Tempe priced at just $215,000.
For a customized home search of available properties tailored to your own criteria, please contact Tempe real estate expert Nick Bastian at Realty Executives. Nick can be reached at 602-803-6425 or via email at nick at nickbastian.com
For more details about how parent student home loans / kiddie condo loans work or to get pre-qualified for any financing options, you can contact Shane Hollenback at Nova Home Loans. Shane can be reached at 480-270-4820 or via email at HollenbackTeam at NovaHomeLoans.com.
Below you will see some of the single family homes priced within the maximum allowable FHA loan amount in Tempe – not far from the main campus of Arizona State University. Go Devils! We are happy to set up a customized search that fits your specific criteria. Just call 602-803-6425, we are happy to help!
Tempe Homes Within FHA Loan Limits
MLS IDX Listing Disclosure © 2017
Copyright Arizona Regional Multiple Listing Service, Inc. All rights reserved. Information Not Guaranteed and Must Be Confirmed by End User. Site contains live data.