2023 ASU Football Schedule
Here's a list of each football game for the upcoming year. Unfortunately, the game times have not been announced yet. Of course, this can all change without much notice. We'll try to keep up with the changes.
5 of the first 6 ASU football games will be played at home. Hopefully, the Devils can take advantage of that!
Please note: Spring Game will be played April 15th at Sun Devil Stadium. NOW is the time to Activate ASU! Be sure to follow Activate ASU on Twitter and help us fill Sun Devil Stadium this year!
The 2023 ASU Football Schedule Looks Like This:
ASU Spring Game – Saturday, April 15th following Pat's Run! Let's fill Sun Devil Stadium!
8/31/23 – Thursday – ASU vs Southern Utah University – 7:00 PM – Home Game (wear GOLD)
09/09/23 – Saturday – ASU vs Oklahoma State – 7:30PM – Home Game (wear BLACK)
09/16/23 – Saturday – ASU vs Fresno St – 7:30PM – Home Game (wear GOLD)
09/23/23 – Saturday – ASU vs USC – 7:30PM – Home Game (MAROON Monsoon)
09/30/23 – Saturday – ASU vs Cal – Away Game
10/07/23 – Saturday – ASU vs Colorado – Home Game (wear GOLD)
10/21/23 – Saturday – ASU vs Washington – Away Game
10/28/23 – Saturday – ASU vs Washington St – Home Game (wear GOLD)
11/04/23 – Saturday – ASU vs Utah – Away Game
11/11/23 – Saturday – ASU vs UCLA – Away Game
11/18/23 – Saturday – ASU vs Oregon – Home Game (wear GOLD)
11/25/23 – Friday – ASU vs Team from Tucson – Home Game (wear GOLD)
Please note: The ASU football schedule information above was obtained from the media, from the Sun Devil Athletics site and from the Pac-12. All information is subject to change, please see the official ASU web site or the Pac-12 web site for complete details. If you see an error or something we should change, please feel free to let me know.
Remember to wear the right colors to ALL of the Arizona State football games this year! Mostly GOLD.
So, the 2022 ASU football season was interesting… BUT, we got a new coach and that was enough to put a smile on a lot of faces here in Tempe.
**HUGE ASU Football news. The Sun Devils have hired Kenny Dillingham as their new head coach! So far, Sun Devil Nation seems to be embracing this new hire and there is a lot of excitement heading in to the 2023 football season for the Sun Devils.
It's time to "Activate The Valley!"
**Scroll down a little to see video highlights of past Territorial Cup games. SO fun to watch!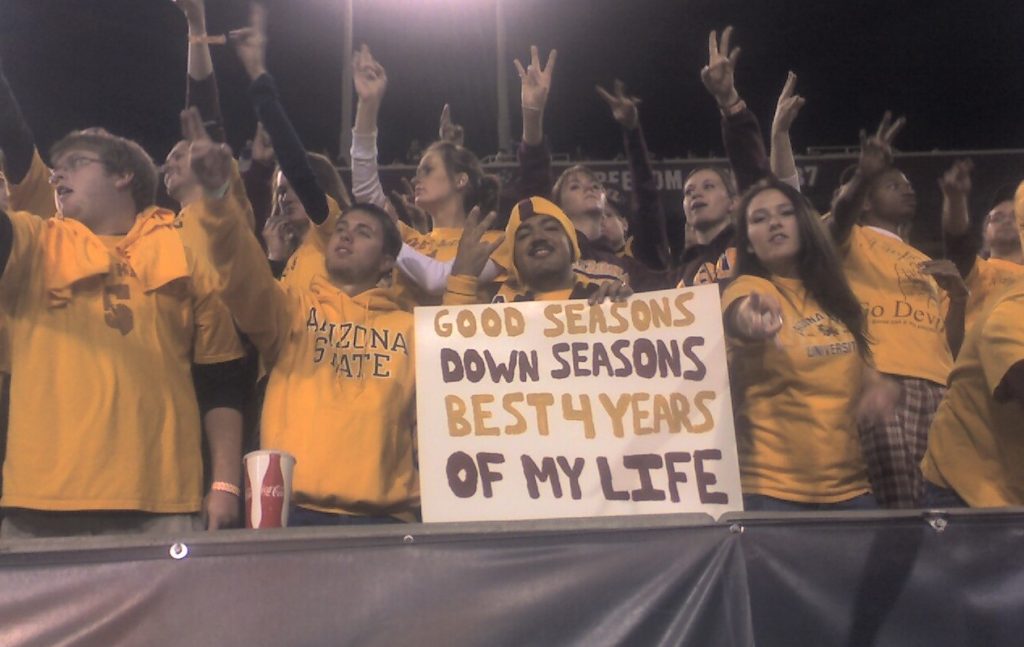 There's a LOT of interest surrounding the program on and off of the field.
Season and single game tickets for the Arizona State Sun Devils can be purchased by calling Colton Turner at the ASU ticket office. Colton can be reached at 480-727-3518 or  via email at [email protected] More ticket info is available online via TheSunDevils.com.
All 2023 ASU football games should still be televised along with every Pac-12 football game via a combination of ESPN, ABC, FOX and the Pac-12 Network. Television scheduling and game times can obviously change so we will do our best to update this information for you.
THIS is Sun Devil country! Mark your calendar for all of the 2023 ASU football games!! You don't want to miss any of the action. Please note that most of the games we will wear GOLD.
Many ASU fans are looking forward to a 2023 football season where the team plays to their full potential. Their 3-9 record last year was clearly not fun.
This Sun Devil team is looking to shed the black cloud that has been hanging over the stadium. To do that, they just will need to take advantage of what seems to be a really good recruiting class. This new coaching change should help inspire a few people to get behind the kids and the program.
Go Devils!!
Take a look at these highlights fro the 2020 Territorial Cup. At least Herm Edwards OWNED Tucson.
Here's another fun video from the 2019 Territorial Cup where ASU came out on top once again.
AND, check out this fun video from the 2018 Territorial Cup. ASU's historic 19 point comeback was SO fun to watch! #ForksUp baby!
But wait, there's more! Here's another version of highlights from the ASU comeback game. Just in case you'd like to see some  more…
Sun Devil Stadium is located at
500 E Veterans Way
Tempe, AZ 85287
The 2022 season looked like this:
9/01/22 – Thursday – ASU vs NAU – W 40-3
09/10/22 – Saturday – ASU vs Oklahoma State – L 17-34
09/17/22 – Saturday – ASU vs Eastern Michigan- L 21-30
09/24/22 – Saturday – ASU vs Utah – L 13-34
10/01/22 – Saturday – ASU vs USC L 25-42
10/08/22 – Saturday – ASU vs Washington – W 45-38
10/22/22 – Saturday – ASU vs Stanford Away Game – L 14-15
10/29/22 – Saturday – ASU vs Colorado W 42-34
11/05/22 – Saturday – ASU vs UCLA L 36-50
11/12/22 – Saturday – ASU vs Washington L 18028
11/19/22 – Saturday – ASU vs Oregon State L 17-31
11/25/22 – Friday – ASU vs Cats L 35-38