Come meet my friend, John Skelton!
Lori and I are co-hosting a meet and greet "Open House" along with Councilmember Robin Arredondo-Savage and Stephanie Navarro.
John is running for one of the available seats on the Tempe City Council. In my opinion, he's the top choice of the seven candidates currently running for the three open positions.
What: Meet Tempe City Council candidate John Skelton
When: January 7th, 2022 from 5-7PM
Where: 1550 E Caroline Lane Tempe, AZ 85284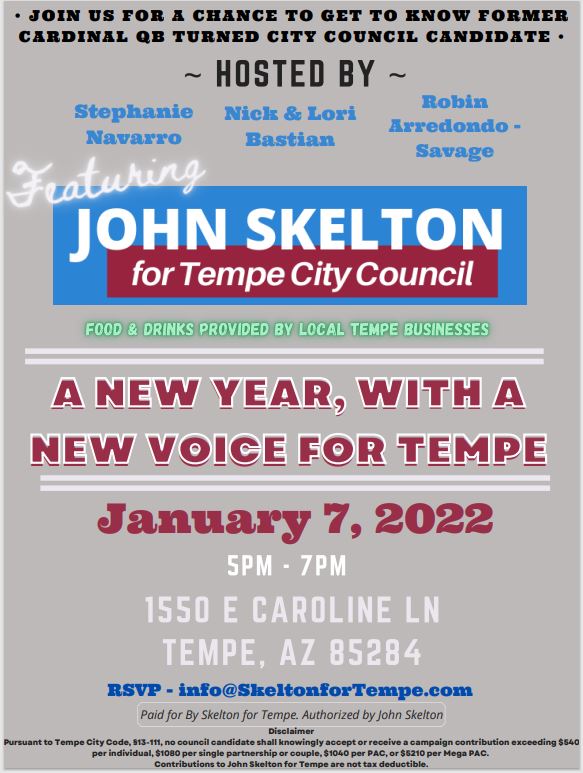 Why I support John Skelton:
I have been friends with John for a couple of years now. John and I serve together as members of the Board of Directors at the Tempe Community Action Agency. I have found John to be professional, articulate and willing to take on important projects with great confidence.
I have also seen some of the great work John does as a coach, father and a volunteer with the Tempe South Little League.
As a father and a small business owner, John will also provide a much needed voice for many of us in the community.
Please join us to learn more about John and his vision for a better Tempe.
This event will be held at our home, and we'll have food and drink from local restaurants. It'll be a great opportunity for us to discuss the issues that matter most to all of us.
This will be a casual event with opportunities to learn why we are supporting John as a candidate.
Please feel free to contact us with any questions! My number is 602-803-6425.