The annual Tempe Fourth of July Fireworks spectacular has been heald at Tempe Beach Park for many years. For 2023, the fireworks will be held at Tempe Diablo Stadium!
This amazing fireworks show will once again be put on by the Kiwanis Club of Tempe and is consistently known as the best fireworks display in Arizona.
For the past 70+ years, we have enjoyed this beautiful 4th of July celebration.
Thousands of fireworks are launched during this brilliant display and they make the sky come alive with a dazzling display of patriotism. This is truly one of the best events held each year.
Here's a short video showing a small sample of the fireworks from Tempe Diablo Stadium.
The photo below is one of my favorite from when the fireworks dispaly was held at Tempe Beach Park.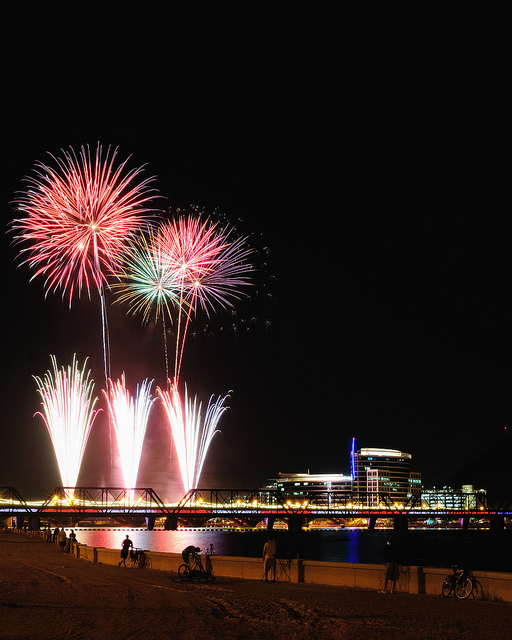 Photo by Christoph Schweiger
The annual July 4th festival at Tempe Diablo Stadium is expected to draw roughly 30,000 people to enjoy hours of entertainment and the largest fireworks display in the State of Arizona. There's live music, food vendors, beer gardens and fun for people of all ages.
Start Time – Tempe Fourth of July Fireworks:
Gates open at 5pm and the party begins with food, fun, live music, the National Anthem and more.
Fireworks are scheduled for 9:20 – 9:55pm.
Parking and Info for the Tempe 4th Fireworks
The 4th of July Fireworks are launched from Tempe Diablo Stadium. Thousands of people gather to watch the display and enjoy all of the festivities. Parking can be a challenge so people are encouraged to plan ahead.
You can purchase your tickets for just $10 at the Tempe4th.com website. There are also VIP packages available for $100.00.
Don't miss this wonderful event that is fun for people of all ages.
Have a safe and Happy Independence Day!!