The Tempe Instagrammys are another awesome idea from the people at the City of Tempe. This is billed as the greatest social (media) event of the year.
Basically, it gives a way for people to share some of the things they love about their city with a whole bunch of people.
Entering is super easy. Just post a pic to Instagram and use #TempeInstagrmmys2021 to tag your pics.

While many of the photos are understandibly taken in the areas in Downtown Tempe and around Tempe Town Lake, there is also a category (with a super-cool prize for the winner) for photos taken in South Tempe. For those pics, we'll ALSO use #SouthTempeStyle to compile them and vote on a winner. For all of the entries, it will be helpful to tag @tempegov as well.
The South Tempe Style winner will get a very cool gift basket comprised of gift cards and cool swag from some of our favorite South Tempe places! Seriously, this is going to be SO fun!
Here's some more info from the City of Tempe' website:
Entries for Tempe Instagrammys will be accepted from Nov. 20th to December 21st, 2020. Winners will be notified before December 21st.
The 2020 Awards Celebration will be virtual this year.
The Tempe Instagrammys celebrate the beauty of our community and the stunning art of photographers who make this city shine. It makes sense that our prizes come can only be found here, too.
Each Top Winner will receive cool prizes. We'll update this pageas we learn more about the awards for this year:
2020 Contest Categories
The top winner in each category will receive a prize package and trophy. Honorable mentions may be awarded. Those winners will receive trophies. All nominees selected for the category by judges will win certificates.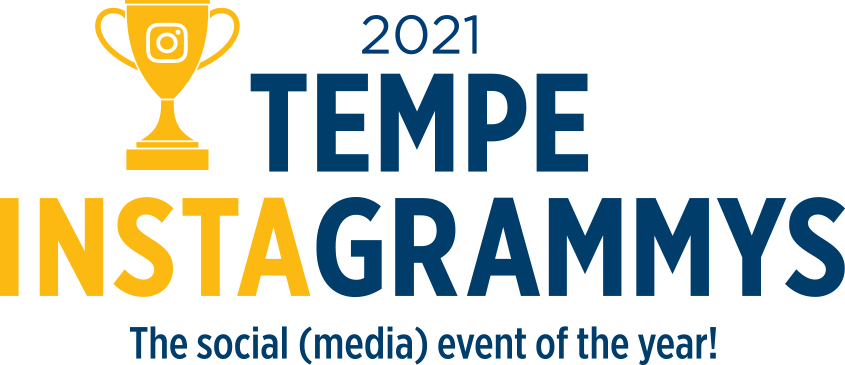 Tempe Camera award – Best technical photo. Winner gets Tempe Camera swag.
Tempe Tourism award – For the photo that makes you really want to come here. Basket of goodies from Tempe attractions
Downtown Tempe award – Best photo of Mill Avenue and the surrounding area or a Downtown Tempe Authority event. Goodies from downtown Tempe merchants
ABC 15 Weather award – ABC 15 picks the best weather photo from Tempe
South Tempe Style award – Best photos from south of the 60. South Tempe has some pretty amazing restaurants and businesses. They come together to offer a really nice prize. Add the#southtempestyle hashtag for bonus consideration.
Tempe Center for the Arts award – Best photos of TCA – inside the building or exteriors. Win TCA prizes
People are the Heart of Tempe award- Best people photos – win great Tempe prizes.
Tempe Moves You award – Best action photos – win fantastic Tempe prizes
Tempe Town Lake: 20 Years award – Anything of Tempe Town Lake, including old photos from before Town Lake was built could win a prize.
City of Tempe Employee Award – You have to work for the City of Tempe Government to win this one because our employees can't win the other categories. Employees should use #TempeInstagrammysCOT. Please note: if you are teaching one class, such as for Recreation, TCA or the Library, you may enter any category. 
Judges Choices Categories – We reserve the right to create categories and give prizes out for categories that aren't named here based on great submissions.
Top Categories
While all our categories are awesome and being a finalist for any of them means you've surpassed some amazing competition, the top prizes for the contest are:
Best of @Tempegov –  the equivalent of Tempe Photographer of the Year. You must submit at least five photos to win this one.
The Wavemaker Award – given to a great photographer who also supports the Instagram community through praise, goodwill and more.
Mayor's Choice – Mayor Corey Woods picks his favorite photo. You win a day in your honor and other awesome Tempe prizes.
There will be several awards for great photos that do not fit into these categories, as well.