The Tempe Public Market Cafe is coming soon! Many South Tempe residents are looking forward to this new addition to our neighborhood!
Chef Aaron Chamberlin will be bringing his talents to south Tempe. Currently, Chef Chamberlin is well known for his successful restaurants at the St Francis and at the Phoenix Public Market Cafe. We'll be able to enjoy breakfast, lunch and dinner at the Tempe Public Market. While there will undoubtedly be some similarities with his current menus, we hear that Chamberlin will specialize in pizzas here in Tempe. I'm cool with that, for sure! I think my kids will love it, too. 🙂
We hear that they will offer breakfast, lunch, and dinner with a "simple, health-focused menu of sandwiches, salads, slow-cooked meats, and pastries, along with a full bar," according to a press release.
The new sign that has been installed in the parking lot mentions that the Tempe Public Market will be opening "This Summer."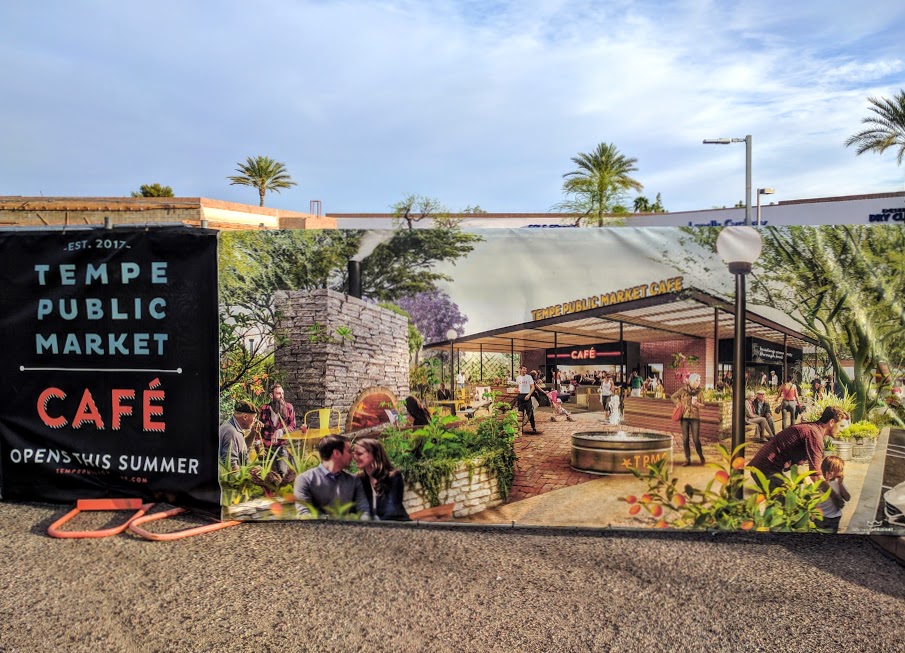 and this one..
"We see a huge opportunity in South Tempe, an area that is very much underserved when it comes to locally owned restaurants. The Café is all about connecting the local food community by sourcing local ingredients wherever possible and providing a neighborhood gathering place to enjoy a casual meal in our dining room, a cup of coffee on our patio, or glass of local wine at our bar." – Chef Aaron Chamberlin
** Update: My "guess" is that the Cafe will be open close to the first of the year. (2018) The sign was installed 11/29/17. It sure looks like they are getting close to opening!
The demographics in south Tempe show that this type of quality restaurant should do well her.  The area currently seems to be lacking quality restaurants but we feel that we will be seeing success with some of our new options.
Tempe Public Market – Awesome Location:
Here's a map of the area. Feel free to take a look around, we think you'll like how close it is to 3 major freeways for those of you who don't already live in the neighborhood.
8749 S Rural Road
Tempe, AZ 85284
Many of the residents around here are thrilled to have the Tempe Public Market Cafe in their neighborhood.
Live near the Tempe Public Market!
Here's a look at the housing currently for sale within a mile radius of the cafe. I'm happy to say I live close by and am looking forward to many trips to the Cafe coming up very soon!
Near Tempe Public Market
MLS IDX Listing Disclosure © 2017
Copyright Arizona Regional Multiple Listing Service, Inc. All rights reserved. Information Not Guaranteed and Must Be Confirmed by End User. Site contains live data.