We will soon be seeing three new South Tempe restaurants in an area where demand has seemed to outpace supply.
The Tempe Public Market Cafe, Oink Cafe and Zipps Sports Grill are all opening soon off of Warner Road. Oink and Zipps are at McClintock and Warner, and the Tempe Public Market will be opening at Rural and Warner.
Maybe the biggest news is the new Tempe Public Market Cafe that's coming to the NE corner of Rural and Warner in the old Circle K building. They'll have a 3200 square foot restaurant that serves breakfast, lunch and dinner.  They'll have sandwiches, salads, slow-cooked meats, pastries, coffee and a bar with local beer and wine. I've been talking to people about this for a few months, and everyone seems to be really excited for these guys to be coming to South Tempe. While the press release and the New Times story didn't mention it, we've also heard that a "high-end" Mexican food restaurant could be joining them on that corner in the old Barro's space.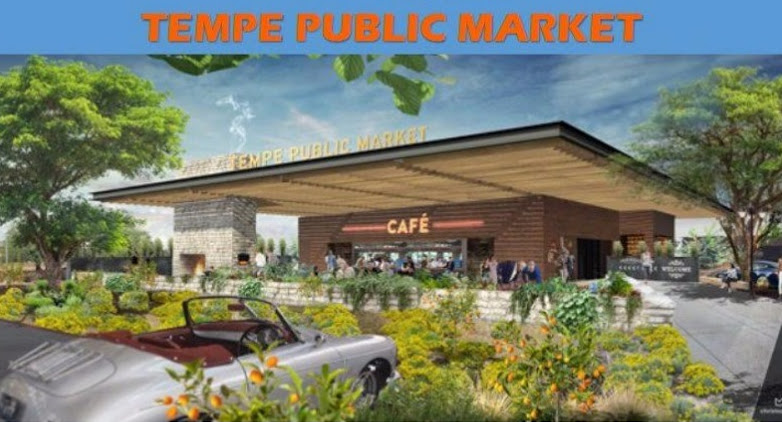 Another really cool addition to the area is going to be the new Oink Cafe, which is opening in the old Marcello's space at the SW corner of McClintock and Warner. Breakfast, lunch and bacon. What else could we ask for. Right? They have 2 current locations and their reviews are awesome. I am really looking forward to this one opening as it is the closest of the three to my home!
The other one I noticed back in like March or April. A liquor license application in the window said that Zipps Sports Grill was looking to move into a building near the NE corner of McClintock and Warner. They have done a LOT of work to the building and added a pretty cool looking outdoor patio. Nothing wrong with having a new sports bar in the 'hood, right?
Here's the sign I saw in the window earlier this year.
Chickens, Eggs and South Tempe Restaurants
For years, I have talked to people about how underserved this area seems to be with quality restaurant options. Sure, there are nice homes here and disposable income in this area is higher than several areas with more dining options, but density has been a big question mark. Larger homes on larger lots have apparently kept some restaurant owners away. Until now… I'm glad to see this recent activity in the area. Sure, we have yummy local places like Great Harvest Bread, Vincitorio's, Crepe Bar and several others nearby, but I think all three of these places will be a great addition.
The 85284 zip code was recently ranked as a top 5 wealthiest zip code in the state, with average incomes north of $148,000. Most of these people can probably afford to eat out. I hope these new restaurants thrive and open the door for more to come!