Don't miss the 5th annual Boxer Luv Rescue Run held at Kiwanis Park in Tempe. This is a super fun family friendly event held each year for a great cause.
The Boxer Luv Rescue Run is near and dear to our hearts as we've fostered several dogs with Boxer Luv, and we currently have two boxers that came from the rescue.
Meet Jiggy and Gunner! They are more fun than a barrel full of monkeys! 🙂 Yes, they will be joining us, too!
For 2020, the run will be held on January 25th at 9am.
Choose between the 10k walk/run or the 5k walk/run. They even have a 1 mile fun run/walk to choose from.
Kiwanis Park is located at 101 W Baseline Road, Tempe, AZ 85282. You'll enter the park at Ash Avenue, which is just west of Mill Avenue and Baseline.
Event info and registration details here:
Their Facebook page is here:
Please join Lori and me in supporting this great cause and super fun run.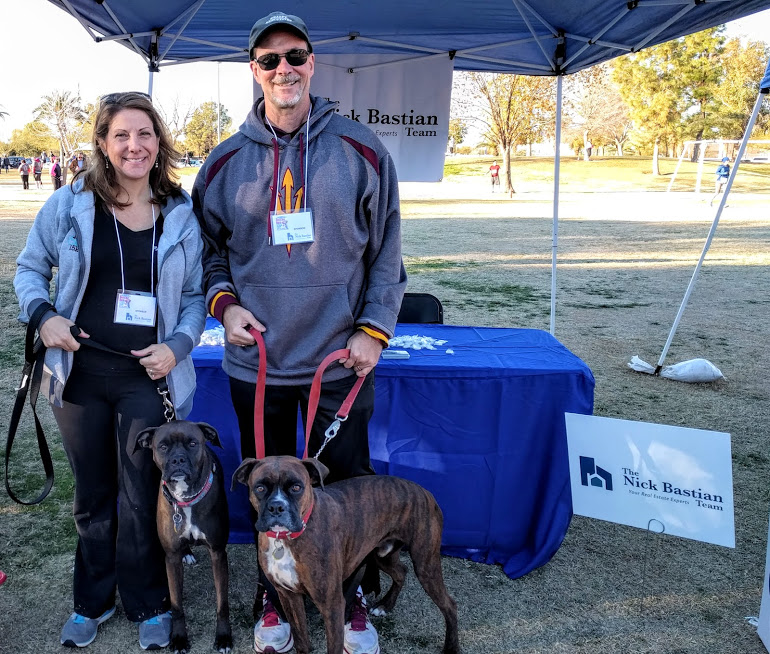 We are always happy to support the Boxer Luv Rescue run!
All participants receive:
A Custom Event Finisher's Medal
A Custom Event Dri-Fit Tech T-Shirt – There is an option to select "no shirt" at checkout and receive $off of your registration.
Age Group Awards for Top Three in all Age Groups (Race Day participants only).  Our age groups are the following:

8 & Under, 9 & 10, 11-13, 14-17, 18-24, 25-29, 30-34, 35-39, 40-44, 45-49, 50-54, 55-59, 60-64, 65-69, 70-74, 75 & over

Pre- and Post-Race "Runner's Brunch" (bagels, fruit, water, Gatorade, etc)
Chip Timed with Real Time Results and Photos on our Website or Mobile App.
Course set and marked by StartLine Racing to maximize your event experience!
Proud Sponsors of the 2020 Boxer Luv Rescue Run!
Here at the Nick Bastian Team, we are so glad to join so many awesome sponsors of this fun and worthwhile event. We hope you'll join us in participating each year!
Two options are available for race packet pick-up.
(wait until closer to the 2020 race to update packet pickup info)
You can pick up your race packet from Sole Sports in Tempe on Friday, January 24th from 3-6pm. Sole Sports is located at 1006 E Warner Road #104, Tempe, AZ 85284. They are at Rural and Warner, close to Ghost Ranch and Cotton and Copper so you could hit happy hour over there, too! 🙂
Packets can also be picked up at Kiwanis Park the morning of the race (Jan 25th) beginning at 8:00am.
BIG thanks to all who participate in this fun event!