There was a time when million dollar homes in South Tempe were pretty rare. As our community continues to grow, they have become much more common. While South Tempe is landlocked and can no longer grow in size, the infill properties that are being built tend to be multi-million dollar homes. People love the location, the lifestyle, the proximity to jobs, easy freeway access and so much more.
We are seeing people build some really amazing estates right here in our community. Yes, homes in excess of 10,000 square feet have been built in South Tempe recently! Vacant lots that sat empty for years are being snatched up and built on. Older homes are getting completely remodeled or even pushed over and replaced.
For this page, we are pretty much talking about homes in the 85283 and 85284 zip codes.
Take a look at these Million Dollar Homes in South Tempe:
This list shows homes that are currently for sale at one million dollars and greater in the South Tempe area.
The luxury home market is alive and well in this area, for sure. People love the location and the lifestyle of South Tempe. It's a much different luxury market than other parts of town. You will likely find less flash and more down to earth people in these luxury areas.
You'll find a wide variety of home styles: gated communities, large estates, and horse properties. Just a great mix of homes in the luxury market around here.
Take a look around. We think you'll like it here!
South Tempe Homes - One Million and More
MLS IDX Listing Disclosure © 2023
Copyright 2023 Arizona Regional Multiple Listing Service, Inc. All rights reserved. Information Not Guaranteed and Must Be Confirmed by End User. Site contains live data.
Contact South Tempe real estate expert Nick Bastian to learn more abut buying or selling homes in this great area. Nick can be reached by calling 602-803-6425.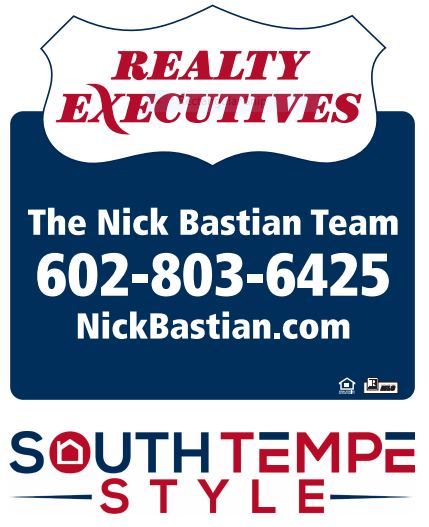 Realty Executives – The Nick Bastian Team
2133 E Warner Rd ste 105
Tempe, AZ 85284