South Tempe has a style all its own. Great schools, amazing neighborhoods, tons of shopping, awesome restaurants, super-convenient freeway access, friendly people, awesome parks, recreation and more. ( Kiwanis Park is one of our favorites )
For the most part, our community is made up of the 85283 and 85284 zip codes. Click either of those links to learn more about those areas and the homes for sale in those two zip codes.

What is South Tempe Style?
STS is awareness, it's a way of life. We are a like-minded and diverse group of people who love where we live, work and play. We love our community, we love learning about what is happening in our part of town.
Please feel free bookmark this page and visit often. On our social platforms, we'll be sharing our favorite things about this area and the lifestyle we enjoy so much. Much of that will be done on our South Tempe Style Instagram page and our South Tempe Style Facebook page so take a look at those, too!
There's also a private Facebook group for people to join! This is where we share the most information about our community via restaurant reviews, community information, school information and detailed information about the many wonderful neighborhoods and businesses in the area.
We also use a hash tag of #SouthTempeStyle on Instagram to share some of the photos about our community. Feel free to tag your own favorite local photos to share, as well!
South Tempe Neighborhoods:
Learn about some of our favorite communities like The Lakes at Baseline and Lakeshore, the Camelot Corner area where an amazing mix of restaurants, shops and conveniences exist, the Buena Vista Ranchos area, and neighborhoods like the beautiful Graystone community,  Corona Del Sol Estates or Warner Ranch that spans from South Tempe and in to Chandler. Of course, we have MANY more awesome neighborhoods to talk about.
If you'd like any information about life in this amazing area, please feel free to contact Nick or Lori Bastian any time at 602-803-6425. We live, work and play in South Tempe and would love to help with any of your real estate needs.
Check out these cute kids who are big fans of the Tempe South Little League! 🙂
If you are in the area, please feel free to stop by the office and say hi!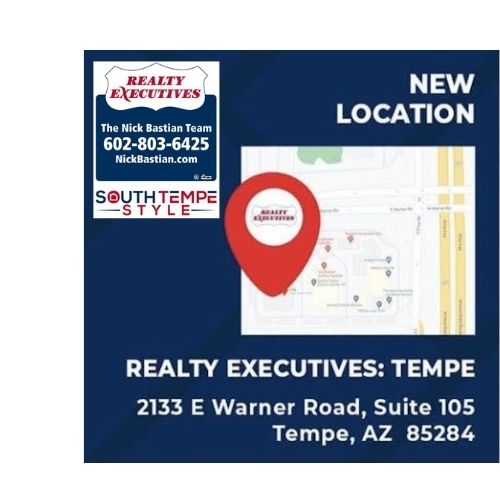 The Nick Bastian Team – Realty Executives
2133 E Warner Rd Ste 105
Tempe, AZ 85284
602-803-6425