Tempe Streetcar:
This page needs to be updated! We'll work on it soon as opening day will be here before we know it!
For now, here's a great video update about the new system. BIG thanks to GNAV TV for the footage!
The Tempe streetcars are coming! After years of study and a recommendation by METRO light rail, the City of Tempe recommended a modern streetcar loop as part of the Tempe South transit study. While there is still some red tape and some regional hoops for the project, I have a feeling it will be rubber stamped through the process. A Modern Streetcar isn't a small trolley like many envision,  it is similar to a light rail car and rides in a fixed guide way. The Modern Streetcar is said to carry 130 passengers with 35 seated and 95 standing. These cars have more frequent stops than light rail cars and travel with traffic instead of dedicated lanes like the light rail cars we have here in the Valley. According to METRO, this 2.6 3.0 mile, $163 million project is scheduled to begin operations in 2016 the Fall of 2018 with an annual operating and maintenance cost of $3.1 million for the City of Tempe. ( The original route was going to be 2.6 miles and was scheduled to be completed in 2016. NEW route changes and Federal processes have changed some of the details.
Here's a photo of the new and improved route that METRO and the City of Tempe believe will have a better chance for Federal funding. It goes further east on Apache than the previous route and connects to light rail at the Dorsey station. It also goes further east on Rio Salado to hit Marina Heights.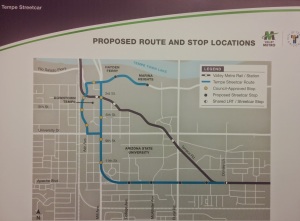 Many people are not aware of the what, where, why and when of this project so let's look at some of those questions.
WHAT: Modern Streetcar – An electric powered vehicle very similar to but smaller than our light rail cars. While a modern streetcar does run on tracks, they typically operate within lanes of traffic and not in their own lane like a light rail car. Many people think of a small trolley when they hear streetcar, but these are just smaller vehicles that make more frequent stops. Because they are so similar to light rail cars which run on a fixed track, the modern streetcar is also considered to be a catalyst for economic development in an area. The projected cost estimate for this 2.6 mile modern streetcar project is $163 million, which will be paid for using regional funds, prop 400 tax revenue, and federal grant money. Even though Tempe has been forced to make cuts to some city programs in this current economy, the funds allocated for this project can not be moved to other things. That might be bureaucracy at it's finest, but them's the breaks. While the City of Tempe doesn't have to foot the entire cost of construction, they will be required to pay operational and maintenance costs in the $3.1 million range. Several options are being considered with naming rights, special assessments, changing bus service and others being discussed.
View Tempe Modern Streetcar Map – Stretching the Mill Avenue District in a larger map
WHERE: The proposed Mill Avenue Loop will run from Rio Salado to University on the North and South and between Ash Avenue and Mill on the East and West. The entire extension will be between Rio Salado and Southern Avenue  Apache. There has been some talk of having a "stub" at one or both of the Rio Salado turning points to be able to connect future extensions along Rio Salado easier. Phase two involves plans for the Streetcars to go East on Southern to Rural and then possibly connect to a Rapid Bus route where other options still appear to be up in the air. Within the Mill Avenue Loop corridor, there has been interest in further developing Ash Avenue as well as properties / land inside of the loop. I have heard talk of an RFP to make changes in this area. Basically, it sounds like the Tempe Streetcars will stretch the Mill Avenue District out over a large area.
WHY: Tempe Mayor Hugh Hallman was quoted by the Tribune as saying, "The transit line will encourage redevelopment of declining shopping centers, including the long-struggling Danelle Plaza at the southwest corner of Mill and Broadway Road." METRO CEO Steve Banta has mentioned a desire for a cohesive transportation system for the region. Said Steve Banta, "we will not be successful if we don't have the end user in mind." While the Phoenix light rail system makes most of the headlines, the connections to bus and eventually Modern Streetcar and High Speed Rail are constantly being evaluated. Economic development opportunities seem to be a large focus of Tempe and for regional transportation planners. METRO's presentation for the project has mentioned that "for every $1 invested in rail transit, you can expect $1.30 in return in other community benefits." Each of the extensions and all of the transportation modes are designed to work together in the region.
When: Since the Tempe South extension has made it past the Tempe City Council, it will then run through another process. ( I think MAG votes, after that it goes to the FTA ? ) If all goes as planned, we will see streetcars on Mill Avenue in late 2016.
Many questions remain about the process, the possibility of changes to bus routes, connection with and to light rail, costs, station locations, car design, neighborhood impacts, and more. Many residential neighborhoods line Mill Avenue along the Streetcar route and it will be interesting to see the changes take place.
Since we have found the most interest in businesses and homes within 1/2 mile from our light rail line, we are including the map below showing homes for sale within ( approximately ) 1/2 mile of the Tempe Streetcar route. Once the station locations are determined, we can update the map to be more specific with the 1/2 distance from each stop. It will be interesting to see if the addition of the Streetcar line will change the way people look at Tempe real estate. Given the easy access to ASU and it's great location, it just might be a new hot spot for people to consider. This area has incredible housing diversity with small to modest homes all the way up to some beautiful luxury lakefront living. Please feel free to call Nick with any questions or to see any of these Tempe homes.
Homes Near Proposed Streetcar Route
---
$400,000
Subdivision:
VAL VERDE PLAT 4 LOT 52-54 BLK 7 LOT 88-93 BLK 12
Description:
Beautiful 2 bed / 1 bath single level home within walking distance to ASU! ...
Last Updated:
February - 06 - 2023
$665,000
Subdivision:
UNIVERSITY HOMES 2
Description:
Welcome to 533 W 18th in the vibrant city of Tempe, AZ, where convenience a...
Last Updated:
February - 05 - 2023
$434,000
Open House (02/05/2023 - 9:00 am)
Subdivision:
KNOELL TEMPE 3
Description:
This charming 3 bedroom, 2 bathroom, 2 car garage home is now on the market...
Last Updated:
February - 05 - 2023
$405,000
Open House (02/05/2023 - 9:00 am)
Subdivision:
KNOELL TEMPE 3
Description:
Your dream home is waiting just for you! This kitchen is ready for cooking ...
Last Updated:
February - 05 - 2023
$575,000
Open House (02/05/2023 - 9:00 am)
Subdivision:
UNIVERSITY HOMES 3
Description:
Come see this beautifully renovated home in a great location close to ASU a...
Last Updated:
February - 05 - 2023
$440,000
Subdivision:
REGATTA POINTE
Description:
Welcome to Tempe's Regatta Pointe, where Luxury & Convenience meet you Exac...
Last Updated:
February - 04 - 2023
$599,000
Subdivision:
TEMPE GARDENS 1
Description:
Stylish remodel of a mid-century modern rancher in the wonderful Tempe Palm...
Last Updated:
February - 04 - 2023
$459,000
Subdivision:
STATE COLLEGE HOMES
Description:
Upgraded and cozy home in the heart of Tempe and close to ASU and the Tempe...
Last Updated:
February - 03 - 2023
$395,000
Subdivision:
HAYDEN SQUARE CONDOMINIUM
Description:
If you are looking for a place to live in the heart of Tempe, look no furth...
Last Updated:
February - 03 - 2023
$402,000
Subdivision:
Patrician Homes
Description:
Perfectly located Tempe Townhome!! Just down the road from the ASU main cam...
Last Updated:
February - 02 - 2023
---
Copyright 2023 Arizona Regional Multiple Listing Service, Inc. All rights reserved. Information Not Guaranteed and Must Be Confirmed by End User. Site contains live data.