Tempe Union High School District
The Tempe Union High School District serves more than 14,000 students in six comprehensive high schools and one non-traditional high school.
TUHSD high schools include Tempe High, McClintock, Marcos de Niza, Corona del Sol, Mountain Pointe, and Desert Vista. Compadre Academy offers personalized learning for students.
The district encompasses 162 square miles and serves the city of Tempe, the Town of Guadalupe, the Gila River Indian community, the Ahwatukee Foothills area of Phoenix and parts of north west Chandler. Much of the district is fed by the highly rated Kyrene School District.
The District allows for parent and student choices via their open enrollment guidelines.
Here's a map of the Tempe Union High School District: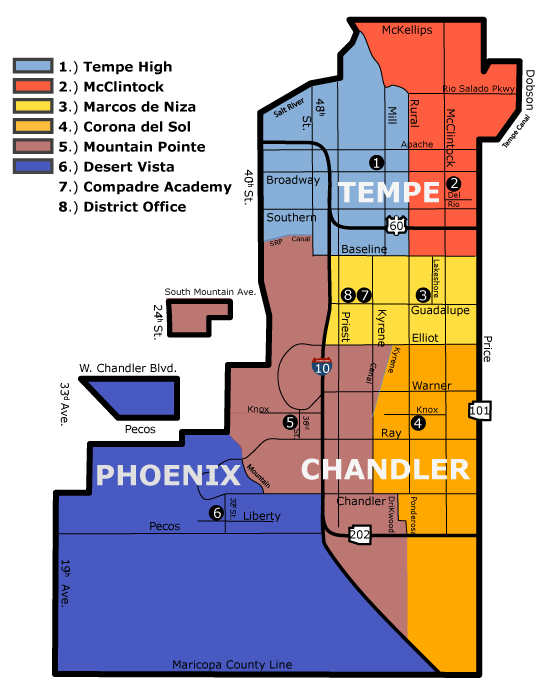 Contacting the Tempe Union High School District:
District offices are located at 500 W Guadalupe Road Tempe, AZ 85283
The office phone number is 480-839-0292.
Contact any of the schools by heading to this district web page.
We believe that good schools are vitally important to the communities they serve. We chose where we live based, in part, on the good schools in the area.
Here at the Nick Bastian Team, we are happy to help you learn more about these areas and the lifestyle found within the district. Five of the seven people on our team live within the TUHSD boundaries. Please feel free to reach out to us at any time to learn more about homes in this area.