The Kyrene School District is an "A" rated K-8 school district that serves parts of Tempe, Chandler, Guadalupe, and Phoenix / Ahwatukee, Arizona, as well as portions of the Gila River Indian Community. The district is made up of 25 schools (18 elementary, 6 middle schools 1 K-8).
Here's a list of schools within the Kyrene School District: The list includes school name, address and phone numbers for all of the Kyrene elementary and middle schools.
See the Kyrene School District web site for more detailed information about their schools, boundaries, sports teams, awards, transportation, etc.
Kyrene School District Boundaries:
This is a link to a printable Kyrene School District Boundary Map. Of course, you can just click to view the map below instead of printing it out.
Open Enrollment: The District allows all students to apply for enrollment. Open enrollment differs from general enrollment and is for families living outside of the district boundaries OR for families living within Kyrene boundaries who want to attend a school other than their designated home school. Many parents in the area love having the choices available to them via open boundaries.
Our District office is located at 8700 South Kyrene Road • Tempe, AZ 85284
Open enrollment is subject to, but not limited to, the following:
* Space availability
* Program capacities
* Student status with another school district
* Student status with the juvenile court system
After graduating from Kyrene, many of our students feed the Tempe Union High School District which  serves the city of Tempe, the Town of Guadalupe, the Gila River Indian community, the Ahwatukee Foothills area of Phoenix and parts of north west Chandler.
Here's what some of the Kyrene students have to say about why they love our school district!
The district has schools in the following zip codes of Chandler, Phoenix / Ahwatukee and Tempe. The zip code links below will show you homes for sale in each of those Kyrene area zip codes. Below these zip codes, you will find a map of the Kyrene school boundaries.
Chandler, AZ 85226
Tempe, AZ 85283
Tempe, AZ 85284
Phoenix, AZ 85048
Phoenix, AZ 85044
To see any of the homes for sale in these areas, please feel free to contact The Nick Bastian Team at 602-803-6425. We live, work and play in the area and are always happy to help with any of your real estate related needs.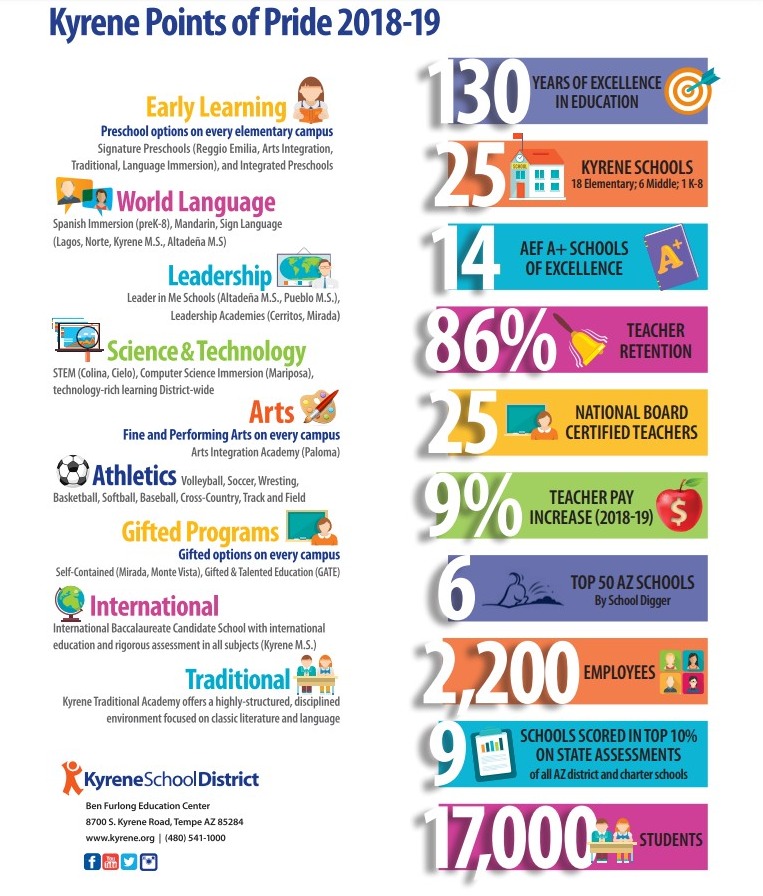 **Update: Congrats to Laura Toejnes for being named the new Superintendent at Kyrene. We're thankful for the work that Dr. Vesley did during her time here but are excited for the future.
Quality schools help build quality communities and great neighborhoods. We are proped to live, work and play in the Kyrene Corridor!