Update: As of January 17th, 2020, Postino will take over the Tempe Public Market space:
Tempe Public Market Café 2019 – Take 2
After roughly one month of renovations and after just over a year of being open, the Cafe has been redesigned based on what the community said it wanted for the space. Yes. They actually listened and they executed and re-opened on June 10, 2019.
The huge remodel included adding full-service brunch on the weekends along with full-service dinner at night. The casual, and somewhat boring interior had it's look, feel and function completely change.
Inside the café, the main dining room has added a new lounge area that is so much more inviting. Long high-top tables replaced several booths to encourage community-style seating, eating, drinking, and socializing. There's a bunch of new and vibrant inside and out.
Two of my favorite additions to the brunch menu are the delictable smoked salmon eggs benedict and the Noble Cristo openfaced breakfast sandwich. Try them!
Overall, they seem to have added more "healh conscious" options. I think… The hummus plate may become legendary before too long. The open faced BLT has a really good flavor. The pic below of the Udon noodles isn't a great pic. I'll have to go try it again pretty soon!
New menu boards and a new pastry case are found at the new full-service counter. Yes, they now have their own pastry chef making some really good cookies, cakes and other treats.
See more pics from the Café here:
More Happy Hour options. They also listened to what local consumers wanted to have on tap. Kiltlifter and devils Ale are some of the additions. The cocktail menu also has favorites like the So Tempe Fizz (Gin, Aperol, basil rose infusion, grapefruit juice, soda. ) and the Morning Manhatton. (Bourbon, espresso reduction, walnut bitters. )
A few other additions to the cocktail list are:
Schrute Farm – Mezcal, beet juice, celery shrub, lime, simple.
The Stache – Bourbon, housemade pistachio orgeat, lemon, egg whites.
Blue Zealand – carribean rum, velvet falernum, blue caracao, kiwi, lime, cherry bitters.
Bright murals and artwork by local artist Gennaro Garcia are found at the interior and exterior. There's a cool new "selfie wall" on the east side of the building. The entrance on that side of the building has been redesigned, as well. An entire glass wall has been added on that side of the building where the doors can be opened to create another awesome outdoor space. (when the weather permits)
Instead of just slats above the huge covered patio on the south side of the building, the patio now has more of a solid cover. This brilliant move allows for a much better misting system in the summr months and a much better way to use trap heat in the winter. The patio becomes more functional and additional outdoor seating has been utilized.
An expanded retail area allows them to sell more of its own merchandise.
---
January 2018
The Tempe Public Market Cafe has arrived in South Tempe and our community loves it!  The Cafe is owned by Aaron Chamberlin and his brother / business partner. Chef Chamberlin is well known for his successful restaurants at the St Francis and the Phoenix Public Market Cafe. Many area residents have been looking forward to this new addition to our neighborhood for a long time.
The Cafe officially opened for business on Friday, January 12th, 2018 at 7 a.m. They are open for breakfast, lunch and dinner every day of the week. (*update: Their hours are now 9am-10pm each day)
The Cafe offers a "simple, health-focused menu of sandwiches, salads, slow-cooked meats, and pastries, along with a full bar." They make some really good pizzas here in Tempe, too. I'm cool with that, for sure! I know my kids are, as well. 🙂
Take a look at the Tempe Public Market Menu here. (menu subject to change)
Here's a few photos of some of my favorite menu items. Below is the salmon and veggies, chicken and house mashed potatoes and a southwest chicken pasta that has almost an enchilada kind of spice in the sauce. (SO good!) Click any photo to enlarge it.
Don't forget about the breakfast items. They have a ginormous breakfast burrito, a scrumptious breakfast sandwich, buscuits with chorizo gravy and a lot more. Coffee is be from Presta Coffee and includes espresso, cappuccino, drip, cold brew and more. Other drink items are smoothies, teas, fresh juices, red and white wine and local beers from Huss, San Tan, Pedal House, Four Peaks and more. They have an awesome kids menu and an even more awesome happy hour menu, too! ($10 pitchers, $3 local brews, $2 PBR!) Happy hour is from 4-7pm every day of the week!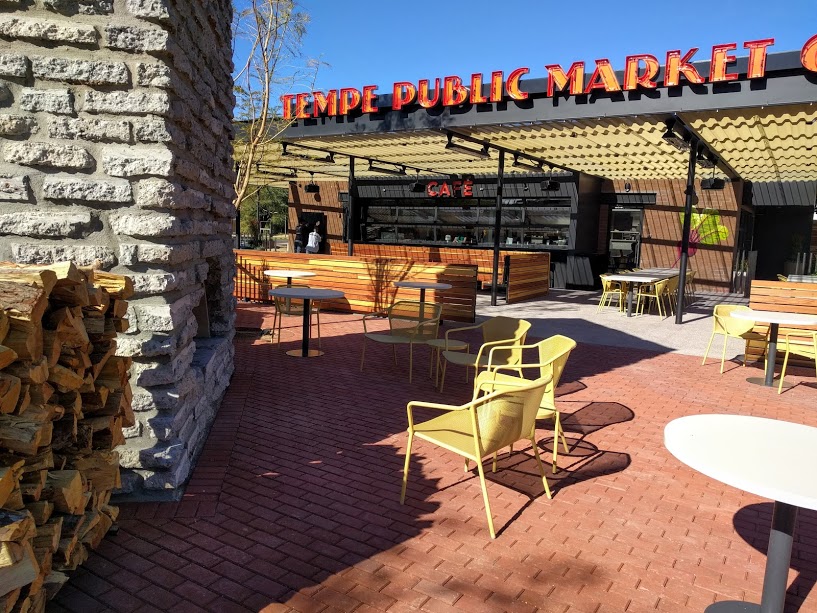 "We see a huge opportunity in South Tempe, an area that is very much underserved when it comes to locally owned restaurants. The Café is all about connecting the local food community by sourcing local ingredients wherever possible and providing a neighborhood gathering place to enjoy a casual meal in our dining room, a cup of coffee on our patio, or glass of local wine at our bar." – Chef Aaron Chamberlin
The Cafe opened very close to the first of the year in January of 2018. They were an immediate success and have quickly become a great part of the South Tempe lifestyle.
Their hours of operation are currently 7am – 10pm seven days a week.
The first sign was installed 11/29/17. It was a long time coming from the old Circle K building that sat empty for several years in this space before it became the Market. This is a great example of how to do an adaptive reuse of a property.
The demographics in south Tempe show that this type of quality restaurant should do well here.  The area had been lacking quality restaurants but we feel that we will be seeing success with some of our new options.
Tempe Public Market – Awesome Location:
Here's a map of the area. Feel free to take a look around, we think you'll like how close it is to 3 major freeways for those of you who don't already live in the neighborhood.
8749 S Rural Road
Tempe, AZ 85284
Many of the residents around here are thrilled to have the Tempe Public Market Cafe in our neighborhood.
Live near the Tempe Public Market!
Here's a look at the housing currently for sale within a mile radius of the cafe. I'm happy to say I live close by and I visit the Tempe Public Market Cafe often!