"Real estate texting" is a VERY popular way for people to communicate. In fact, texting about real estate might just be more common than you think.
I want to share a few of the most common acronyms people use to talk about their home purchase or sale via text message:
NP: Not Pre-Approved
SMH: Sell My House!
WTF: Want The Fridge?
BRB: Bonus Room, Baby!
IDC: Immaculate Downtown Condominium
IMHO: I Might Hit the Open
DTF: Down To Flip
WYD: Where's Your Disclosure?
OMG: Offer More, Girl!
LMAO: Let's Make An Offer!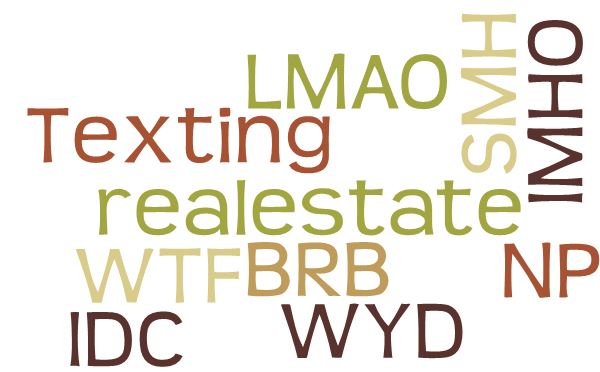 Real Estate Texting – Break It Down:
NP – Not Pre-Approved – Not good. If financing a home, one of the very first things you should do is contact a trusted mortgage advisor. If you are ready to begin searching for a home, we are happy to help point you in the right direction!
SMH – Sell My House! We are happy to help! Have you outgrown your current home? We can certainly help find something that is a better fit. Maybe your current home is too large? It could be time to sell your house and "rightsize" your situation!
WTF – Want The fridge? Typically, the built-in appliances like a stove and dishwasher convey with the home. If you want the fridge, we'll need to be sure to add it to your offer!
BRB – Bonus Room, Baby! – A den or extra bedroom can be cool. But, a man cave, she shed, home theater? Now we're talking about a serious bonus room, baby!
IDC – Immaculate Downtown Condominium – People love homes that are in immaculate condition. We have seen all kinds of people from baby boomers to millennials look to the convenience of condos in downtown areas.
IMHO – I Might Hit the Open. OK, window shopping can be great. Put on a baseball hat and some shades and prepare to use a fake name when the open house agent asks you to sign in. Just make sure to grab a cookie and some punch while looking.
DTF – Down To Flip – Some people just want a nice place to live. Others like to buy a home that needs some work. If you are down to flip, let us know. We can help!
WYD – Where's Your Disclosure? This one is so true. Don't let some smooth talking "flipper" try to tell you that he or she has no information about the home they are selling. This one is serious, folks. Disclosure is a law…
OMG – Offer More, Girl. This one cn certainly apply to guys or girls. It at first you don't succeed, you just might have to offer more!
LMAO – Let's Make An Offer!  Seriously! What are you waiting for? If you are renting, if you are in a home that you have outgrown, if you are in a home that is more than what you currently want or need, just give us a call. OR a text! We are always happy to help!
Real Estate Texting – Are Your Kids Doing It?
I know that your little ones are glued to their phones for countless hours of the day, and I know they are texting their friends about anything under the sun. As a really good parent, I am certain that you are watching what they say to their friends. Right!?!?
Please know that if you see any of these messages on their phone, they might be trying to tell you something. If it is clearly time for you to move, just call / text the Nick Bastian Team at 602-803-6425 and LMAO!
As always, we are here to help with all of your real estate needs!