Is Tesla renting solar panels in Phoenix?
According to multiple sources, they are.
On Friday, I read an article on the electrek website that gives some of the details about this "new way to get a solar panel system on your roof for as little as $50 per month without any long-term contract."
Clean Technica also had a pretty detailed article about the new rental option. They mention that the solar rental option comes with "no upfront installation cost at all and there is no long-term contract." Their article did show a higher monthly cost than we saw on the electrek website. Different fees, different markets. It's kind of that location, location, location thing…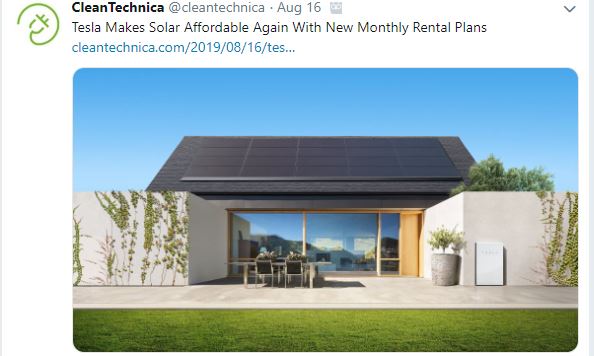 Of course, homeowners will also have the option to purchase solar systems from Tesla, as well. The purchase price for this system is quoted as being $9500 before any incentives. But, for $50 per month, homeowners can have a system installed with no upfront costs and "have the advantage" of solar for $50 per month.
While the Tesla solar roof tiles were thought to be the next big thing a few years ago, the solar TILE implementation seems to be falling short of expectations. In fact, there's talk that this new rental option for panels is a way for Tesla to boost their "sagging solar business."
Does renting Tesla Solar Panels Make $ense?
As with any purchase or lease of solar equipment, each homeowner needs to look at their own situation and determine the pros and cons.
In my opinion, the panels look great. Clean lines, more of a flush look than solar panels of the past.
But, I hope people take a lot of things into consideration when deciding to add solar panels. It will be interesting to see the actual language of the Tesla contracts, especially when someone goes to sell a home with any of these units on their property. Will people be able assume the lease? Will they need to qualify for it?
They pay for the system upfront and install it for as little as $50 and if the customer changes its mind and wants to stop paying, Tesla will just de-energize the system. – electrek.co
If someone decides to discontinue the rental service, it has been said that Tesla can simply de-energize the system. If the customer (or a potential home buyer) decides to have the system removed, the fee would be $1500.00. Of course, the $50 per month fees and any fee for removal are probably just for their smallest system.
It sounds like three different systems are currently available.
Small system for homes between 1000-2000 square feet.
Medium system for homes between 2000-3000 square feet.
Large system for homes larger than 3000 square feet.
For complete details on pricing and availability, you should probably just take a look at the solar panels page over on the Tesla site. They have a "why solar panels" page, as well.
Apparently, Elon Musk thinks that renting solar panels is like having a money printer on your roof.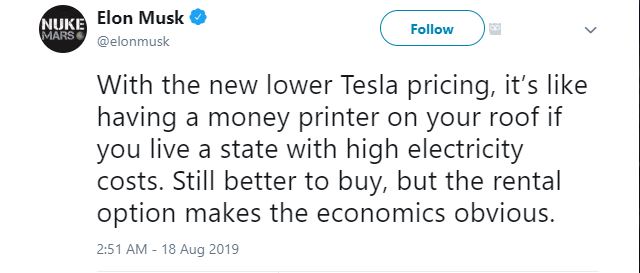 Time will tell if this gets them back in the solar game with any real success.
Please feel free to contact us if you are thinking of buying or selling a home with solar. There are typically a lot of factors that should be considered and we are happy to help!
And, let us know if you install any of these panels in the Phoenix area. I would love to hear your thoughts!