I remember my first Crush. She was fun, elegant, had great taste in food and always looked to give back to others. Thankfully, that has never changed. If you've never been to the First Crush Charity Gala in Tempe, you really are missing out.
There is a NEW venue for First Crush this year! The 2015 First Crush Charity Gala will be held at the Four Peaks Tasting Room located at 2401 S Wilson Street Tempe, AZ 85282. ( NO, not the 8th St location ) The event will feature Four Peaks brews, local wines, and tasty food from local Tempe restaurants, including Four Peaks Brewing Company and Snooze. For music, they will have the one and only Walt Richardson! Yes, really!
The raffle and silent auction items are going to be awesome! How about:
Dinner with ASU Athletics Director Ray Anderson! Maybe you would like city councilman Corey Woods to make dinner for you and 5 of your friends. How about a 4 course chef prepared dinner for 10 at Pedal House Brewery? Maybe you would like to get a private tour of the Sam Adams Brewery!!! Yes, in Boston. This trip has a $3000 value, you need this trip! We'll have dozens and dozens of other awesome items. This really is a can't miss event!
For more information, please visit www.tempeaction.org or contact them at 480-858-6525. Tickets for First Crush are $100.00 per person.
Surround yourself with hundreds of great people, enjoy great food and drink, a super-fun charity auction and awesome entertainment while helping some of the least fortunate people in our communities. This is truly a wonderful event that Lori and I look forward to attending each year.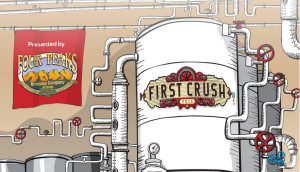 Great Food and a Great Cause: Give Back by attending the First Crush Charity Gala!
What: 11th annual First Crush Charity Gala & Silent Auction
When: Friday, October 23, 2015 from 6:00-10:00PM
Where: Four Peaks Tasting Room – 2401 S Wilson Street Tempe, AZ 85282
Dress for the event is casual. But nice.
The First Crush Charity Gala supports the mission of Tempe Community Action Agency, a nonprofit leader in providing human services to East Valley residents since 1966.  The event is presented by Four Peaks Brewing Company this year! Yes, everyone LOVES four Peaks! First Crushfeatures one of the best silent auctions around a delicious array of menu items, Wine and there will be a LOT of Four Peaks beer along with some great musical entertainment . Did I mention the pie bar? Yeah, there's a pie bar! Proceeds support the programs and services of TCAA, a nonprofit leader in providing human services to East Valley residents since 1966.
Tempe Community Action Agency (TCAA) is a 501(c)(3) nonprofit organization that serves low-income families, children, seniors and the homeless for more than 40 years in the East Valley. The mission is to improve the quality of life for the under served in our community.
Check out the TCAA on Facebook.
I look forward to seeing all of you there!
A very special thanks also goes out to all of our friends at the TCAA for all of the work they put in to this great event.