Some may consider the fact that the Valley Christian Schools purchase of the Tempe campus of Sun Valley Community Church is a match made in Heaven.
Certainly, some will feel otherwise. Any time you have such a large change in plans for so many people, there will always people who question the move.
BUT, this is a big deal. While the financial terms of the transaction are not currently available, there's a LOT to unpack here. This will give Valley a campus of approximately 20 acres here in south Tempe.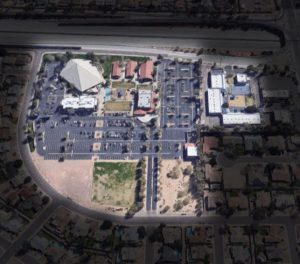 While it's not a BIG deal in the billions like a proposed Coyotes Stadium or a Novus Innovation Corridor, it will affect a lot of families in the area.
Sun Valley Tempe Relocating from 16+ Acre Campus:
Valley Christian Schools sent an email to parents Sunday morning to let them know about the future home of their K-8 campus.
Just a couple of hours later, an email was sent from Sun Valley to church members announcing the relocation of their Tempe campus to a nearby site near McClintock and Chandler Blvd.
Shortly after Sun Valley took over the aging campus from Bethany Community Church in 2011, they realized that the location had challenges for them. Even after modernizing most of the campus, making additions and subtractions to buildings and making the campus much more vibrant and modern, it can still be hard for people to find.
The new 6+ acre campus they are purchasing will be right off of Chandler Boulevard and will be "the most driven-by" of all of their campuses.
Filling Needs For Valley Christian and Sun Valley:
Since 2019, Valley Christian has been running their elementary school at an adjacent property to Sun Valley's Tempe campus. They purchased that 3.4 acre site in 2019 specifically for their elementary school operations which is currently K-6. There was a long term plan in place to build K-8 on land they purchased near their high school campus in Chandler.
After looking at the roughly $60 million price tag to build those facilities, they decided to explore other options.
At the elementary school, Valley already works closely with Sun Valley, using and leasing some space from their neighbors. The two organizations have a great working relationship and in a colaborative spirit, a deal has been made where both parties seem to benefit greatly from understanding the needs and desires of the other.
For Valley Christian, they have a tremendous opportunity to grow at this roughly 20 acre campus. The current building consists of approximately 3.4 acres with approximately 31,000 square feet of building space. The newly combined campus will be roughly 20 acres with approximately 122,000 square feet of buildings.  In the future, they will decide if it makes sense to sell or lease the smaller space where the current elementary school exists.
For Sun Valley, they will build an entirely new campus that is in a location where they feel like they can grow, as well. It looks like the lot they have purchase is a little more than 6 acres.
Being located just west of the Chandler mall and just a bit north of the 202 freeway along Chandler Boulevard should be a very convenient and easy place for people to find.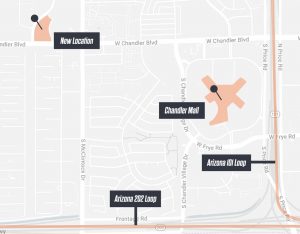 Ironically, this new campus for Sun Valley will put them in the same 85226 zip code in West Chandler that the Valley Christian High School Campus is located.
What Happens Next?
Currently, Sun Valley is a landlord to Valley Christian. Soon, those tables will turn and Sun Valley will lease part of the campus back from Valley until their new buildings are completed. It sounds like they are looking at 2 years for build time, but I am sure there's a plan in place in case it takes longer.
Effective next school year, Valley Christian will have students at their new south Tempe campus.
I'll update this page if more specific details become available.
Here's a map of the new location for Valley Christian's Tempe campus. We think it's a great location near some awesome neighborhoods.
Housing Near Valley Christian Tempe:
The closest housing near the new Valley Christian campus is a neighborhood called Optimist Park. The campus is also close to an area we call the Camelot Corner, where a great mix of homes and townhomes can be found.
Just to the west, you'll find The Lakes of Tempe. To the east of the 101, you'll find the master planned community of Dobson Ranch.
There's a great mix of homes, restaurants, shopping, jobs and convenient freeway access along the Price Road Corridor that is near the school and the new Sun Valley campus.
We're happy to help provide area information to anyone looking to relocate to or sell a home in the surrounding areas.
Our office is conveniently located at Price and Warner, directly between these two campuses.